Bold and striking anti-meth mural goes up in Helena
June 16, 2016 - Independent Record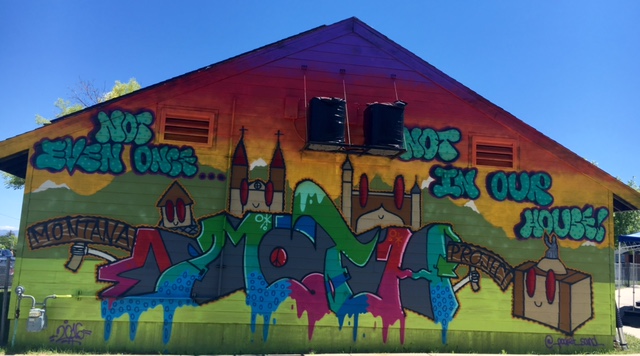 Graffiti artist Cole Kerby, spray paint can in hand, was putting finishing touches on his bold and bright anti-meth mural Monday noon at the Helena Housing Authority.
A flamboyant rainbow of colors, Kerby's mural at the Helena Housing Authority on Billings Avenue depicts some of Helena's most prominent landmarks — the surrounding mountains, the Cathedral of St. Helena, Helena Civic Center and the Capitol.
Arching overhead is the slogan "Not Even Once" and "Not in Our House" — with the banner Montana Meth Project below.
The mural is a joint project of the Montana Meth Project and Helena Housing Authority.
Kerby hopes his mural sparks conversations.
The mural catches the eye of students attending Helena High School, which is located across the street from the mural.
Kerby chose joyous colors to spark viewer curiosity and interest.
"I hope it sheds light on the subject," he said. "Meth abuse is such a dark subject."
Ideally, people pause, particularly kids, and ask "What is this?" And that this leads them to talk to each other about the dangers of using meth.
He finished the mural in record time, starting in on Sunday morning and wrapping up on Monday. But he had done quite a bit of work in pre-planning and sketching the design, so he was ready to transfer it to his 8 by 32 foot canvas.
Kerby, a graduate of the Art Institute of Seattle and Columbus College of Art and Design, is a tattoo artist, graphic designer and glass blower.
Painting graffiti murals "is more of a hobby," he said, but he looks forward to the opportunity to do more.
Ensuring that Helena Housing Authority units are not contaminated by meth is a high priority, said HHA executive director Leslie Torgerson, which is why they launched the mural project.
In previous years, 32 HHA housing units were contaminated, she said, requiring $250,000 in clean-up costs. As a result, HHA recently adopted an aggressive anti-meth policy.
"The mural is …such a unique and inviting way to …spur conversation," about the dangers of meth, said Amy Rue, executive director of Montana Meth Project. "This is just such an authentic way to get the conversation started."
For more information, contact the Montana Meth Project, info@montanameth.org.